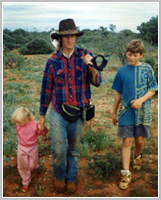 Killgores detecting in 1992
Welcome to Southwest Meteorite Laboratory
Providing meteorites for research, education, and the enjoyment of private collectors since 1990
Providing meteorites for researchers, educators and collectors since 1990.
We are dedicated to education, science and research.
We have a new section devoted to specimens from our personal collection.
We have a large variety of meteorites for sale.
We take pride in our cutting and preparation of meteorite specimens.
We have a 100% authenticity and satisfaction guarantee.
We offer a variety of services.
Sit back and look around a little. We look forward to receiving your comments — don't forget to sign up for our mailing list to receive news and web site updates!
Marvin and Kitty Killgore,
Southwest Meteorite Laboratory
Southwest Meteorite eStore!
Now is your chance to own some of the greatest meteorites, tektites, and meteorite crafted jewelry available! Also see our books and art sections.
Browse Our Meteorite & Tektite Collection
Check out some amazing meteorite and tektite specimens on display in the collection section.


What is a Meteorite?
Read some frequently asked questions and answers about meteorites in the About Meteorites section.